kings theatre

(2023 - present)
MARKETING MANAGER
Kings Theatre is an iconic and historic venue located in the heart of Flatbush in Brooklyn. This 3K+ capacity venue is a part of the UK-based Ambassador Theatre Group's portfolio of international venues. Kings Theatre is known for bringing a variety of acts from concerts to family programming, comedians to community events and more.
I work solely alongside the Marketing Director to creatively and stategically promote all shows, ensure an optimal experience for patrons at Kings and grow the brand and positive reputation of the venue. Read more about my role below.
(Please note: I am still new in this role - starting in March 2023 - so this page is a work in progress.)
--
email
At Kings, I lead the strategy and content creation of all email campaigns to a subscriber database of 250K+.
I create weekly newsletters promoting new and upcoming shows; dedicated targeted blasts to promote shows and announce pre-sales/on-sales; and relevant informative emails for ticket buyers prior to their visit to the theatre.
I've piloted new email campaigns inlcuding a Summer 2023 show roundup (utilizing a new deisgn).
social media
In my role, I lead all strategy and management of the Kings' social media accounts. This includes show announcements, on-sales, show promo and day-of content. I draft all copy and either create original assets, choose photo selects that I believe work best or utilize creative provided by the artist's teams.
website
As I began my new role in March 2023, Kings was revamping their website per ATG. I collaborated alongside the Marketing Director to get our new website up to shape and continue to work on and develop the website.
I ensure all shows have event listings created properly on our website.
graphic design / video editing / signage
Oftentimes in this role, I have to resize and localize assets provided by the shows' marketing teams. This can include admats, video content and more for a variety of print and digital uses. I also create new original content for social media (as seen in the above social links and the below example).
I also manage the print and digital signage at the venue. This includes managing content found on digital screens across the venue, printed posters as well as the iconic marquee out front.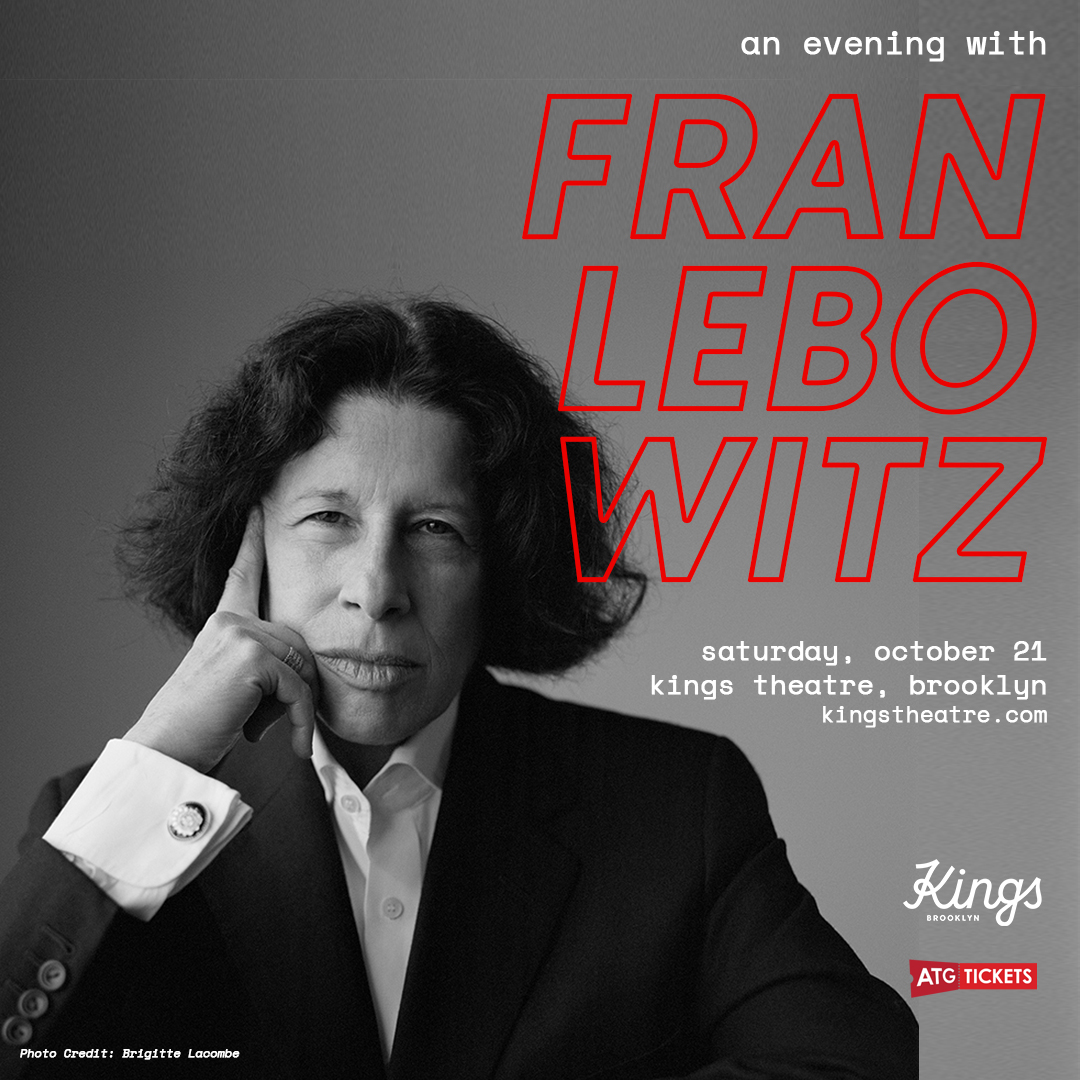 fran lebowitz campaign creative
I was tasked with designing the creative for the iconic Fran Lebowitz's appearance at Kings Theatre in fall 2023.
The creative (approved final design on the left) was authorized by her agent and the booker, for all marketing purposes.
media buys + marketing partners
Alongside the marketing director, we collaborate on managing digital campaigns with the show budgets allotted. Several partners we work with include DoNYC, Park Slope Parents, Oh My Rockness, BrooklynVegan and more.
We also work alongside an agency to manage all digital campaigns through paid social, search and display ads. We provide all assets, copy, and suggested targeting, and then monitor the campaign and adjust accordingly to ensure effective targeting.
I also work on trade partners to secure free inclusion in email and/or social to relevant audiences. This includes partners such as Town Hall, SymphonySpace, SummerStage, LPR, Elsewhere and more.
press + photogs
Together alongside our public relations agency, we work to secure press coverage of our events that are in accordance with the show's policies.
I also book and manage all of our house photographers and ensure the photo policy is followed in the press pit at all shows.